Aiming to be a healthy woman through detox!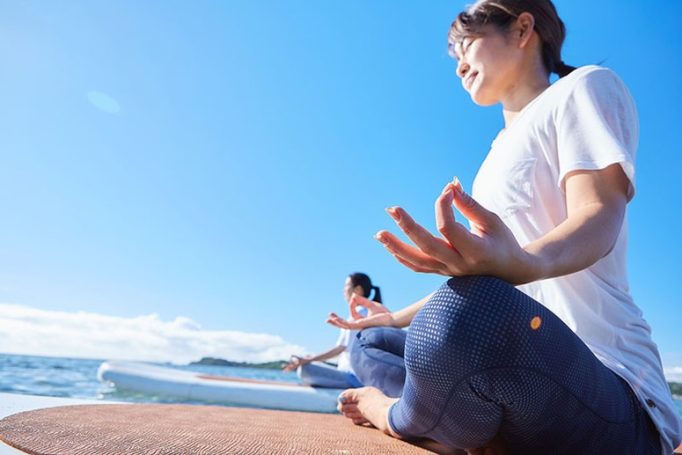 Around one hour by car from Naha City is Uruma City, popular home to one of the best driving routes in Okinawa – a road in the middle of the ocean surrounded by splendid scenery. Instead of a car or sightseeing bus, this time I have chosen to run or cycle as my means of getting around. When you run along a road or through a town that you don't know at your travel destination, chances are you will get to see scenery different from what you would see from a car. I am also looking forward to a popular marine activity that will let me fully enjoy the beautiful nature of the island. It is time to begin my wonderful trip and experience the charms of some unique islands while working up a sweat.
Running through spectacular scenery above a shining sea, bathed in the morning sun
Running is the classic sport you can easily do anytime, anywhere. This time, I decided to run the 4.7km sea road connecting Katsuren Peninsula, in Uruma City on the east of Okinawa Island, to Henza Island. The road park on the way is equipped with shower rooms and lockers, so it is also convenient as a base for activities. It's the start of a healthy day bathed in the morning sun.
After some careful warming-up exercises, it is time to be on my way. Enjoying the morning sun, I run slowly at my own pace. This fantastic location has the beautiful sea spreading out on both sides of the road. The Okinawan ocean is wonderful because its same blue can be almost transparent, vivid, or dark depending on the viewing angle. Breathing in the fresh morning air while feeling the sea breeze, I feel positive and as if my body clock is being reset. I take a break sometimes and stare at the sea while I make sure to stay hydrated.
It is also a luxury to be able to have the view all to myself in the morning calm. After running for about half an hour, I return to the road park to complete my course. The sense of accomplishment from completing a run is hard to experience in everyday life. I feel refreshed and invigorated after working up a comfortable sweat. I have a feeling that this will be a wonderful day.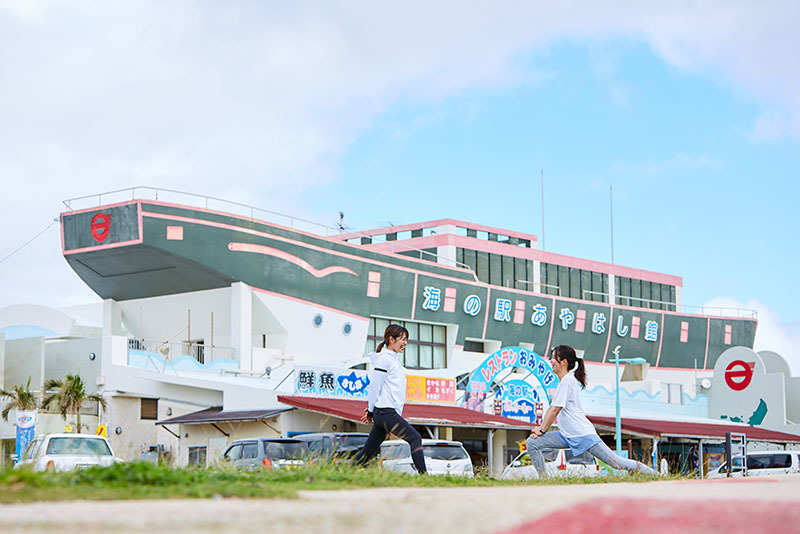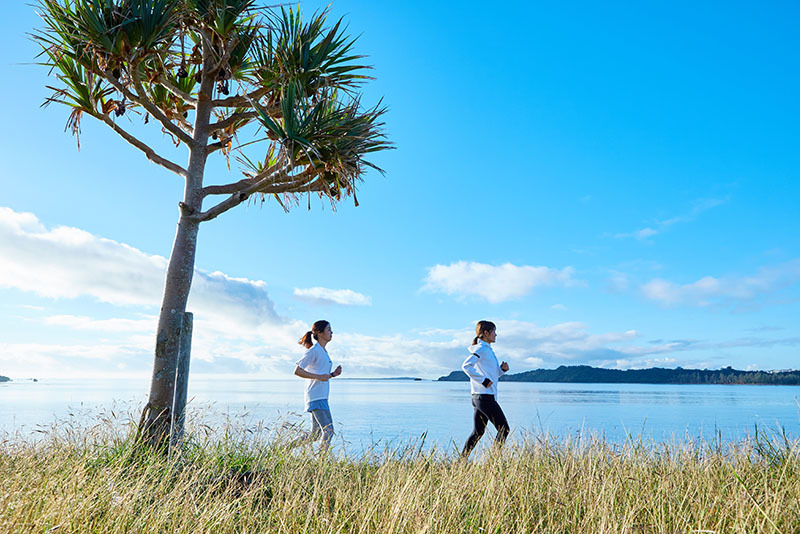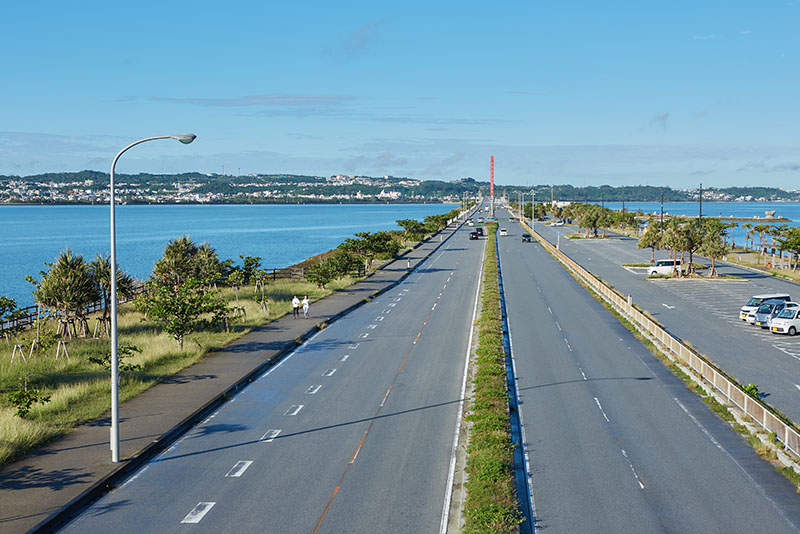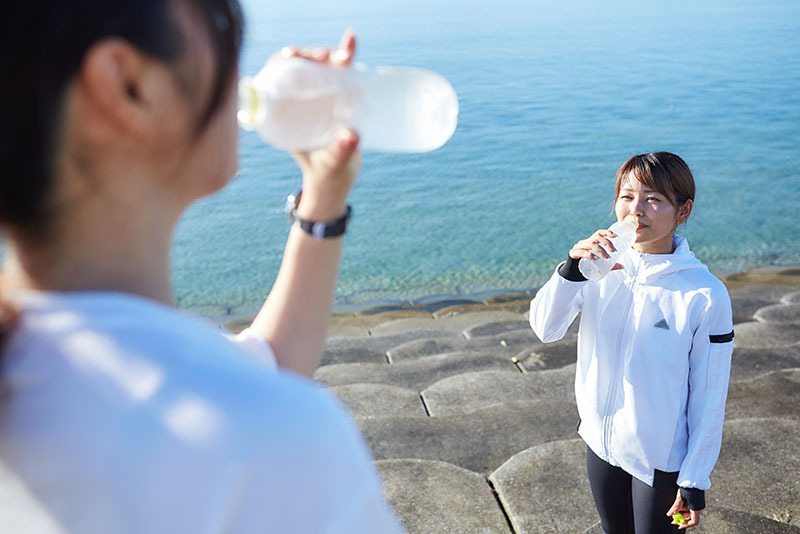 10:00~12:00
Unleash your mind and body in an amazing location
SUP Yoga is receiving attention as a new way to enjoy stand-up paddle-boarding (SUP). Riding atop a board larger and more stable than a surfboard, you relax and do yoga on the surface of the ocean. SUP Yoga originated in Hawaii and is an activity that anyone, experienced or not, can enjoy regardless of their level. The calm and shallow sea is highly transparent and ideal for SUP Yoga.
I met with my instructor on a beach on the sea road next to the Ayahashikan Seaside Station. The instructor has American Yoga and Japan SUP Association certification. They also brought a board for me, so I didn't have to bring anything. The ocean will come up to just under your knees, so quick-drying clothes that are easy to move in even when a little wet are recommended. The UV rays in Okinawa are strong, so you should bring a hat and sunscreen regardless of the weather.
First of all, there is a lecture on land for about 10 minutes on how to handle the SUP board and ride it stably. Once the board is floating on the sea and you have paddled to the location, your preparation is complete. You begin by meditating cross-legged. As the waves rock you, you listen to the sound they make on your board and experience the feeling of being one with nature. Okinawa's beautiful nature makes you feel free.
Once you have got used to your board it will be time for the challenge of yoga poses! There will be clear sea under your board, and a beautiful blue sky extending beyond where your hands are stretched out high. Although there is a sense of stability, doing SUP Yoga while being slightly rocked by the waves is more challenging for your core than standard yoga on a mat. Your accumulated stress from the everyday is released, and you feel liberated by stretching muscles and joints you don't normally use. In poses that twist your upper body, you stimulate the internal organs and promote the discharge of waste products. Finally, you lay down on the board in a resting pose, and close your eyes and relax. It is a blissful time in which the waves rock your body as it is bathed in the sunlight and refreshing breeze. There is nothing more pleasant than not thinking about anything, and letting the ocean carry away any memories you have of your everyday grind. I was able to detox my mind by expelling the negative energy that was inside me as I breathed out.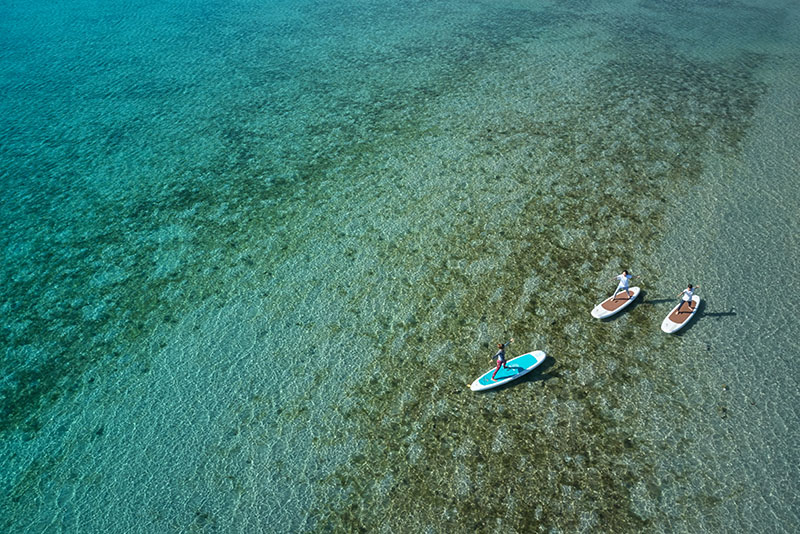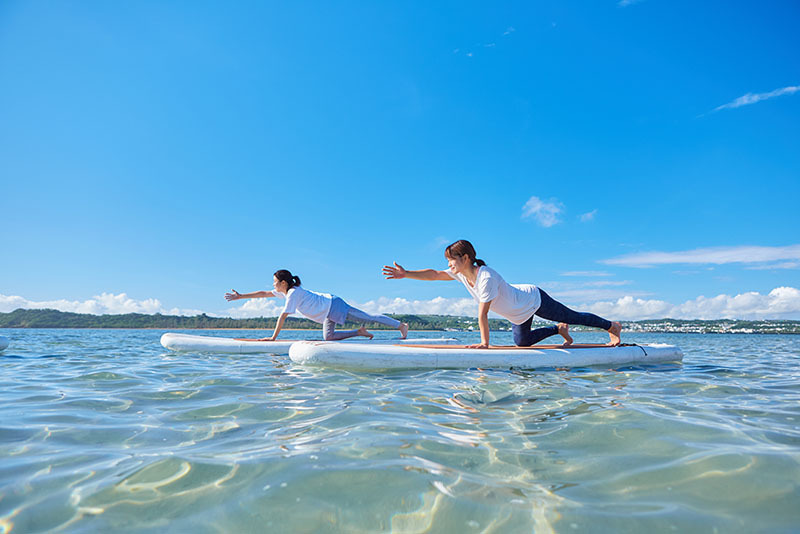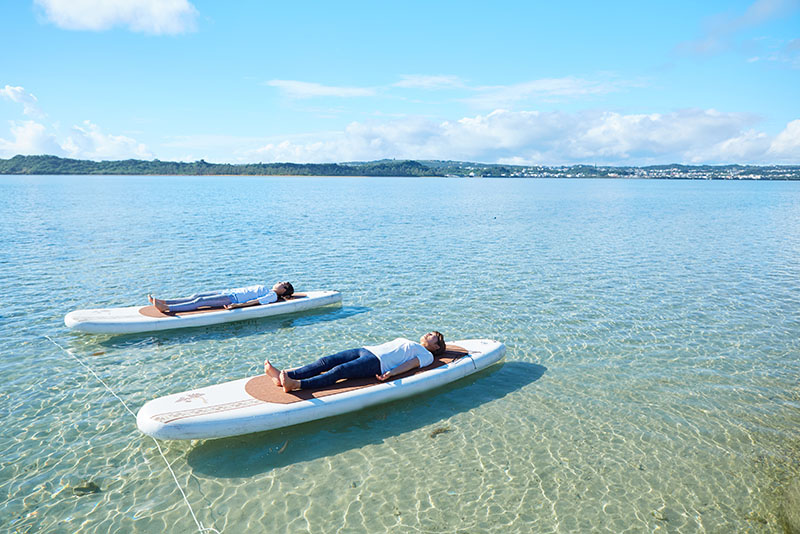 12:30~16:00
A leisurely ride around Hamahiga Island, home of the gods
Having spent the morning burning energy with running and SUP Yoga, I was nicely hungry. With it being my detox day, I had a light lunch consisting of a grilled chicken sandwich and some carrot juice from Uruma City I found at the Seaside Station. I enjoyed it as I watched the ocean sparkle.
After filling my stomach lightly, it was time to rent a bicycle at the Churatokaido Information Center in front of the Seaside Station. My friend, who wanted to cycle hard, chose a sports bike. I have no confidence in my stamina, so I opted for an electric bike. I also asked for route recommendations, and decided to go across the sea road to Hamahiga Island, which is beyond Henza Island. According to a local legend, Hamahiga Island is where the god and goddess (Amamichu and Shirumichu) who created Ryukyu lived, and the entire island is like a "power spot," or place of spiritual energy.
The view from the sea road over the beautiful ocean is exceptional, and the exhilarating feeling from riding a bicycle over the endless expanse of ocean was addictive. The sea breeze seemed to wash away even my sweat, and before I knew it, I was headed from Henza Island to Hamahiga Ohashi Bridge. Seaweed is plentiful under the bridge, and you can even see sea turtles grazing on it if you are lucky.
After crossing the bridge, I arrived at Hamahiga Island. First, I headed to Hama Village. I felt the leisurely pace of "island time" as I cycled through some classic Okinawan scenery from days gone by. The roads have only gentle slopes and are perfect for beginners exploring by bike, and the narrow village roads are easier to navigate by bike than by car. I stopped by a beach and bought a croquette with Mozuku seaweed (a local specialty) inside at a nearby shop. There is a wonderful sense of freedom in being able to stop to take photos or go down to a beach without worrying about finding a parking lot.
Retracing my route, I headed to Higa Village on the other side of the island. I visited the tomb of Amamichu – a small rock-island. According to the legend this is the resting place of Amamichu and Shirumichu, and it is still a focus of much religious faith. I had now been off the sea road for about an hour. Leaving the village, I arrived at my final spot: "Shirumichu." This is where Amamichu and Shirumichu are said to have had a child, and where people offer prayers for children. The air felt a little cool as I passed through the Torii gate and climbed the stairs. A limestone cavern in the middle of the cave system is the object of faith. My friend and I thanked the gods of the island for a wonderful trip.
The real pleasure of our bicycle trip was enjoying the changing scenery – the sea, the bridges and the villages – as we rode until we reached our destination. When you travel using your own legs, you can discover a variety of things to like about where you go. Pedaling is good exercise, and the inspiring scenery that spread out before me was worth the sweat it took to arrive. My experience this time changed the way I enjoy travel; it was a journey that enabled me to detox my mind and body.