Fast or slow – anyone can be a star! The 40th Ocean Expo Park National Trim Marathon event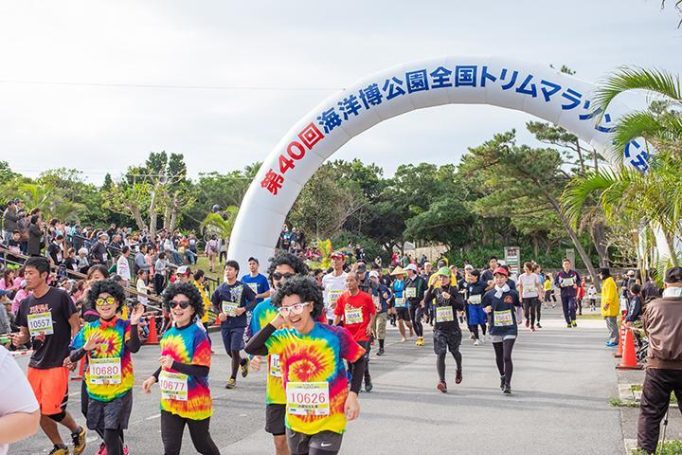 The 40th Ocean Expo Park National Trim Marathon event was held on the main island of Okinawa in the town of Motobu, where the cherry blossoms bloom every year in the middle of January and the Cherry Blossom Festival is held. This competition sees runners completing a course through the rich nature of Motobu town while enjoying a refreshing sea breeze. Its slogan is: "You are a star no matter how slow you may run." It is held with the objective of promoting health and making fun memories with family and friends, irrespective of age or hometown. The event is loved by many people; the organizing staff commented that "the event has a history of 40 years, so there are even runners who participated in their childhood who are now parents and participate with their families. We are glad it has remained popular for so long."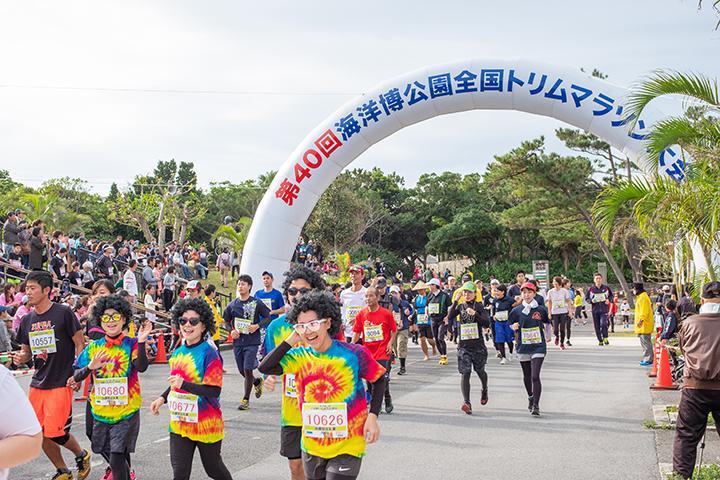 There are 3 courses: the Bise Fukugi Tree Lane course (around 10km), the Flower Garden course (around 6km), and the Family Enjoy Park course (around 3.5km). The view from the starting point is the well-known Mt. Gusuku on Ie Island, which is also called "Tachu." The coastal road overlooking the clear blue sea, and the tunnel of greenery that is Fukugi Tree Lane – the nature-rich locations lead the runners to their goal and whisk away any tiredness.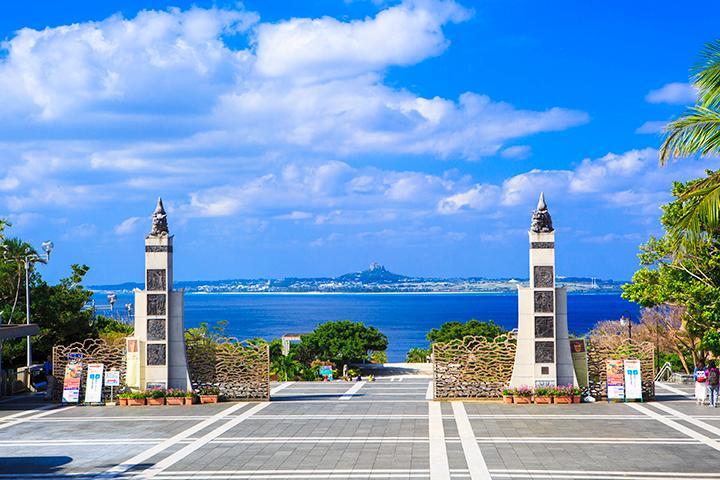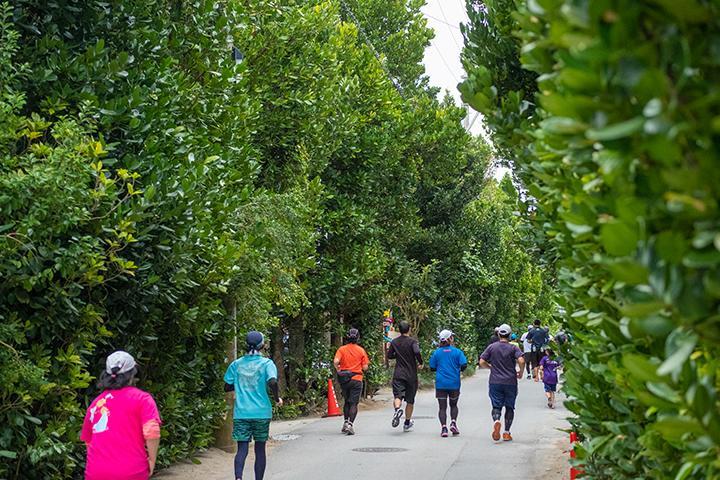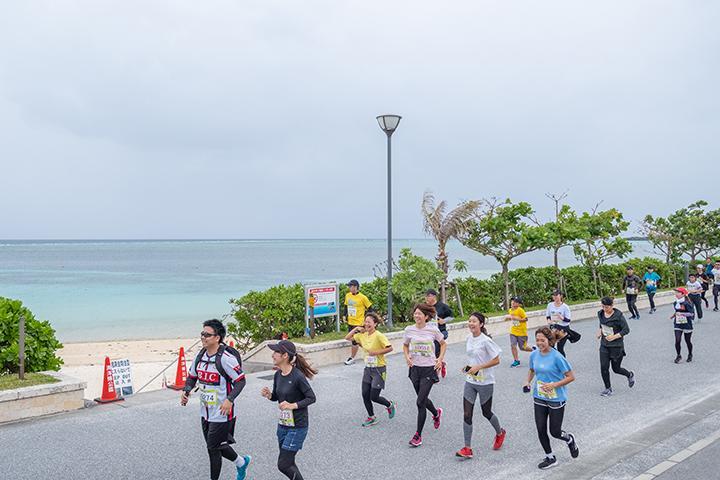 "The best parts of this competition are the sea and Fukugi Tree Lane. We got caught in the rain midway through, but it felt good running." So said a member of the Patterson family, who participated as a family for the first time this year. It seems they often participate in marathons, but this time felt the appeal of the difference compared to marathons run between buildings. The other members of the family also had nice things to say: "Even though it is January, it was warm and easy to run," and "I was glad to be able to run with my Mom and Dad."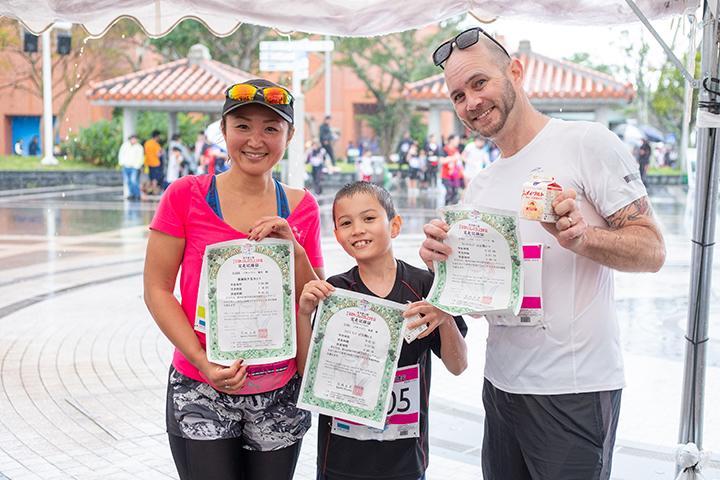 Another attraction is the fun raffle with unique prizes. Prizes such as the "Spot-On Award," for runners with times matching their declared guesses, "Performance Awards" for runners who participate in original costumes, the "Long-Distance Award" for the runner hailing from the location furthest away, and "Senior Citizen Awards" mean that everyone has a chance to be called on stage, making for a marathon competition that all participants can enjoy until the end. Raffle and prize winners were presented with vouchers for hotels in the northern part of the island, salad dressing made using Acerola (a Motobu specialty), Tankan citrus fruit and colorful potted orchids.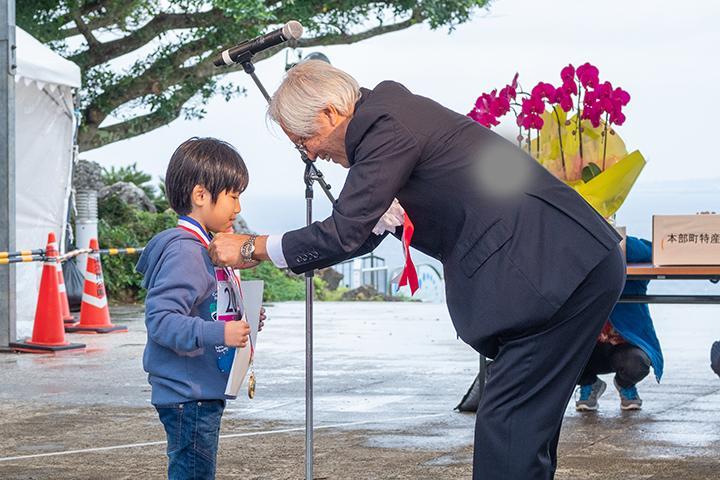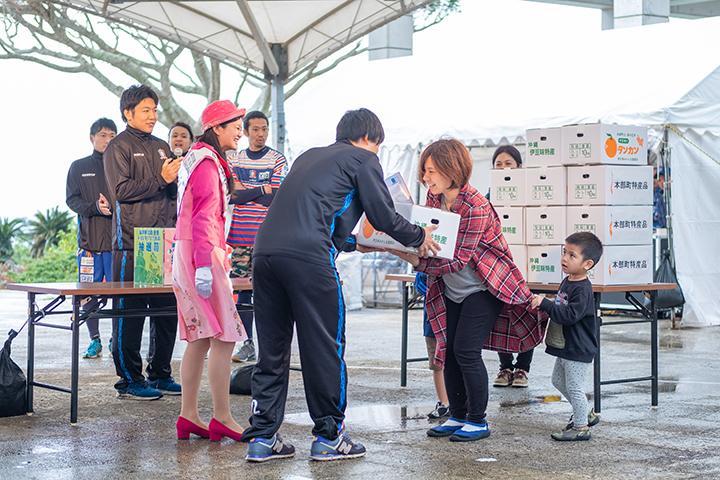 This time, first-time participants – the Yokono family from Hokkaido -received the Long-Distance Award. They commented on their impressions of the competition: "It was raining heavily, but the feeling of accomplishment when the whole family reached the goal is a fantastic memory," and "I was happy that the local old folks cheered us on by beating the Paarankuu (drums) used in Eisa dancing."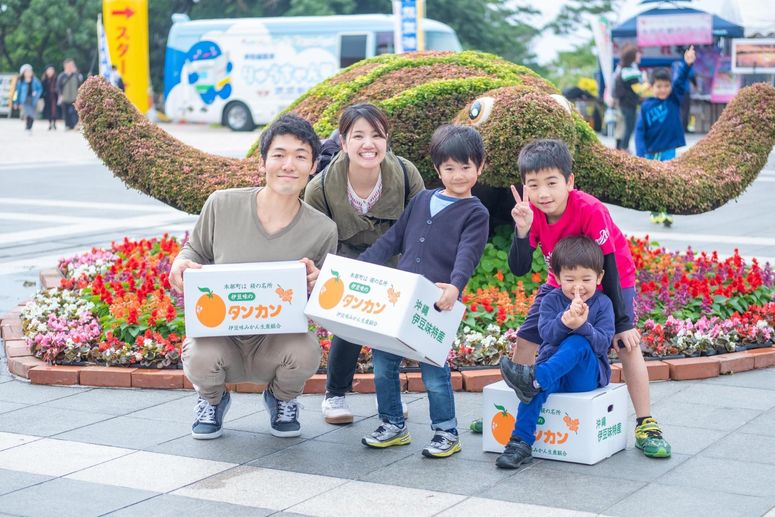 Okinawa is warm throughout the year, and a lot of flowers were on display at Ocean Expo Park, which was where the competition stage was set up. The "Churaumi Flower Festival," which delights the eyes and features beds of colorful flowers made into shapes including whale sharks and dolphins, is also being held until April 7. The Ocean Expo Park National Trim Marathon is where you can run through the rich nature of Motobu Town while enjoying colorful flowers even in winter. Why don't you join in the fun with your family and friends when you visit Okinawa next year? You will be sure to make some wonderful memories.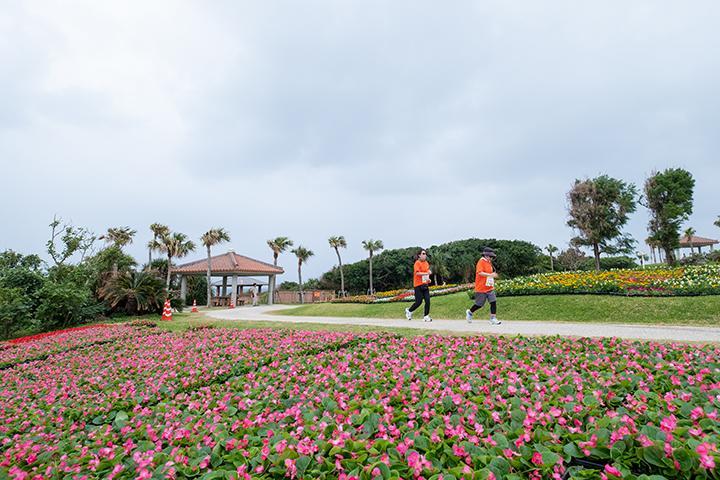 The 40th Ocean Expo Park National Trim Marathon
Website:http://oki-park.jp/kaiyohaku/events/detail/4200