The Engaging Kumejima Marathon Commemorates 30th Anniversary!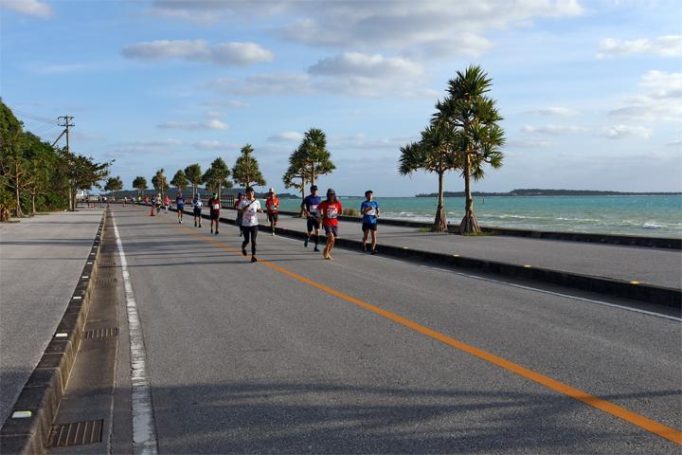 The Kumejima Marathon, billed as a "Fun Run," brings together everyone from beginner to experienced runners from around the country annually in October, making it a proper autumn sport (sponsored by Kumejima Town and the Okinawa Prefecture and Okinawa Masters Athletics Federation). It is set against the backdrop of Kume Island, a popular outer island destination easily accessible from the Okinawa main island and a quick 30-minute flight from Naha. This dynamic location rich in nature and popular tourist sites captivate participants each year, many of whom repeat the journey for years to come.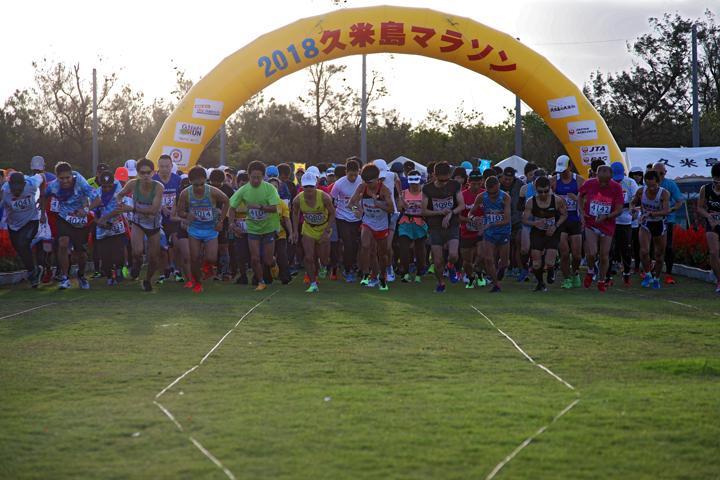 Warm support and encouragement from Kume Islanders give runners a boost along the course packed with places and things to see
The Kumejima Marathon 30th anniversary was held Sunday, October 28, 2018. Last year's event was canceled due to a typhoon, so runners, other participants and the entire island were really looking forward to this year's marathon. Conditions were superb with 20°C and 54% humidity, and 1,340 people entered the race. At 7:20 AM, the main event, a full marathon, kicked off at the Kume Island Nakazato Baseball Ground where both the start and finish lines had been set up. That was followed by commencement of the half marathon, 10 km, and 5 km events. The first highlight was right after the start, a spectacular view unfolded along the coast for about 2 km beginning roughly at the 5 km mark. The most picturesque scenery of the entire course was here for everyone to enjoy.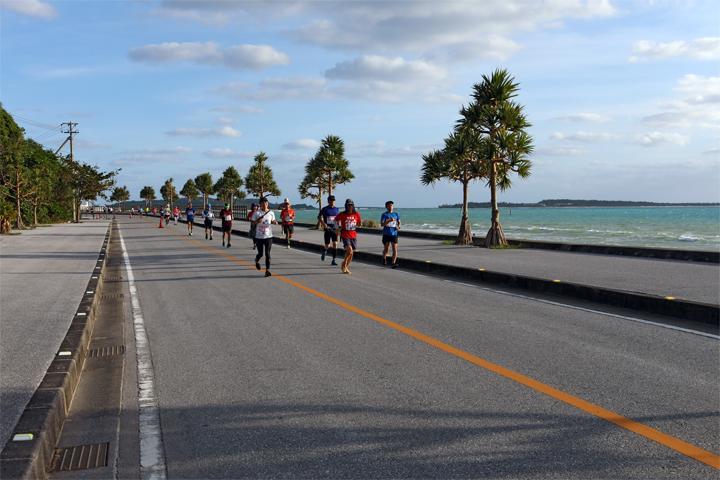 Mifuga Rock in the northwestern part of the island where the return point for the full marathon is set up, is surely a site of scenic beauty. Many runners could be seen taking pictures of these huge cuddling rocks. The unique scenery found only on Kume Island continues to change and shift along the entire course, making every moment memorable for the participants.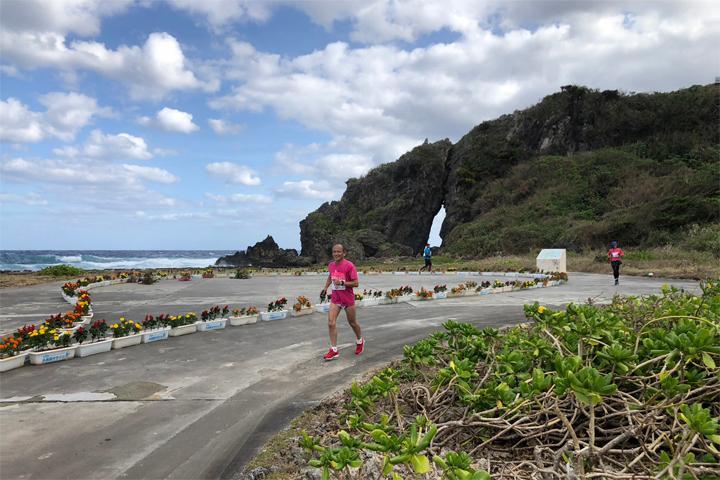 This marathon is also underscored by the warm support and encouragement that local residents provide all along the course. 14 aid stations were set up staffed by local junior high school students and other volunteers who energetically supported the runners.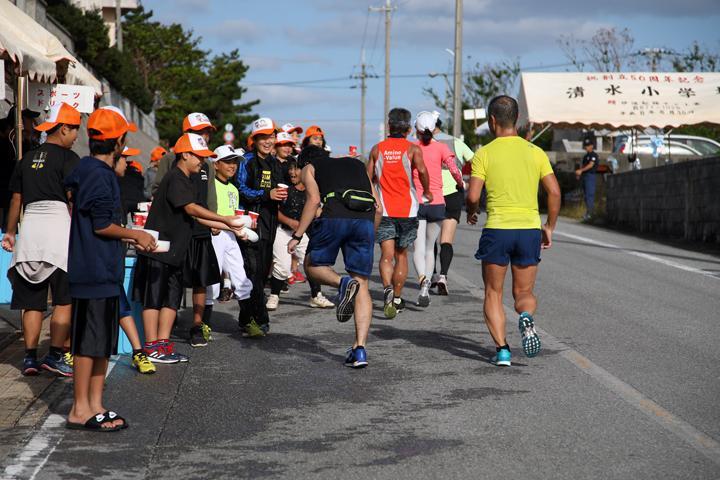 What visiting participants say about the attraction of the Kumejima Marathon
The Kumejima Marathon has a wonderful following not only in Okinawa but all around the country. Participants from other prefectures makeup the majority of the runners. We asked some who admirably completed the race what they thought. Maiko Abe from Miyagi Prefecture entered the women's half marathon. Her wonderful smile conveyed a remarkable sense of achievement. She told us, "Actually, I participated in the full marathon as an invitee the year before last. The temperature was 31°C and I went down from heatstroke for the first time ever. Unfortunately, I had to drop out. Having been born in the Tohoku region, I have no problem with the cold, but a hard time dealing with the heat. That race was always a disappointment for me and I wanted to come back, so I entered the half marathon this time and successfully completed the course. I was able to get a good feel for how to pace myself, so, next year, I'll try the full marathon again and run it while taking in the wonderful scenery here on Kume Island."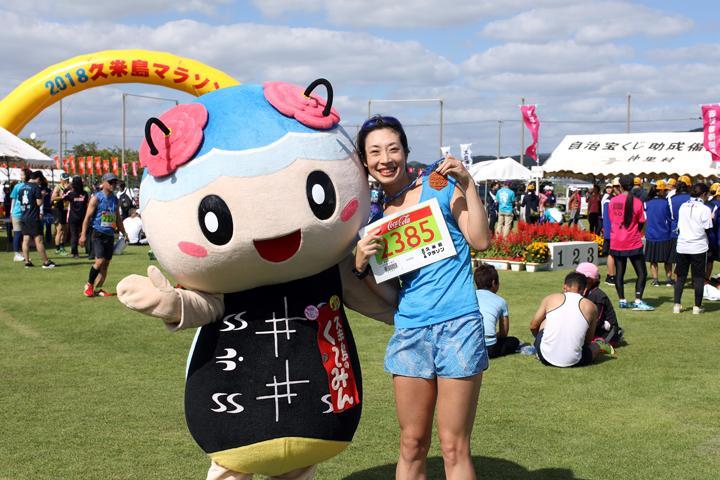 Shinji Kurano (53) from Mie Prefecture received the Legend Award from the Kumejima Marathon Secretariat in commemoration for his 100th marathon run in Okinawa Prefecture. He told us how he fully appreciates the charm and attraction of this race, "Every year, I enter about 30 competitions and complete all of them. Most of these are just here in Okinawa. After this, I'll be going to the Miyako Island Marathon, Yonaguni Island Marathon, Naha Marathon, Okinawa 100K Ultramarathon, Ishigaki Island Marathon. I just keep climbing the marathon ladder each and every step (laughs). The kindness of the people here in Okinawa at these events is very different from other locations. In other prefectures, there aren't that many people cheering you on alongside the roads, nor much food or drink provided either. So, once you've entered a marathon in Okinawa, you can't run in one anywhere else."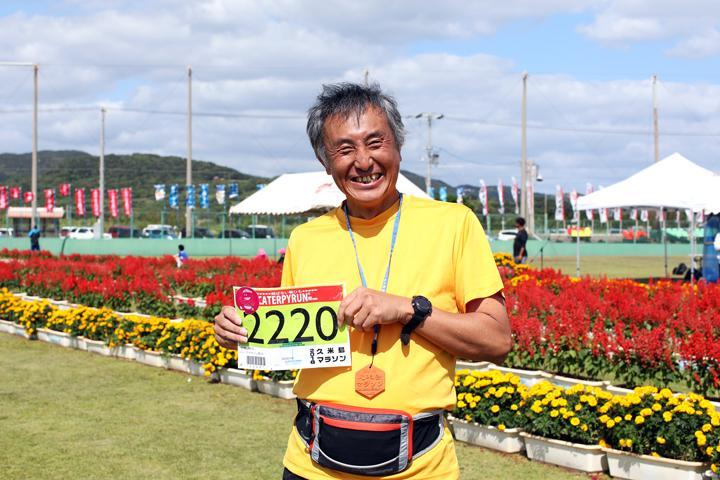 The after party is another main event!
There are also many runners from other prefectures who enjoy the Fureai Party, to which all participants are invited after the run. It is an opportunity to meet other people as well as celebrate successful completion of the marathon. Five popular eateries on Kume Island set up stands selling hamburgers, Chinese food and other popular dishes. Runners receive meal tickets in advance, a wonderful perk for participating in the marathon. Believe it or not, there is also all-you-can-drink awamori! This generous welcome, unthinkable at other marathons, is an experience you can only savor by entering the Kumejima Marathon. There are also splendid performances by eisa groups from the island and popular Okinawan comedians as well as other entertainment and amusements packing a full program that everyone is sure to enjoy. Of course, the party closes when everyone dances the festive Okinawan folk dance Kachāshī and enjoys a fireworks display.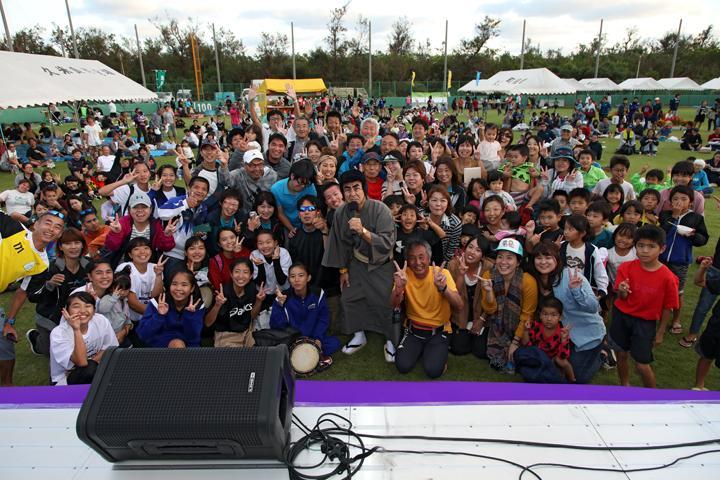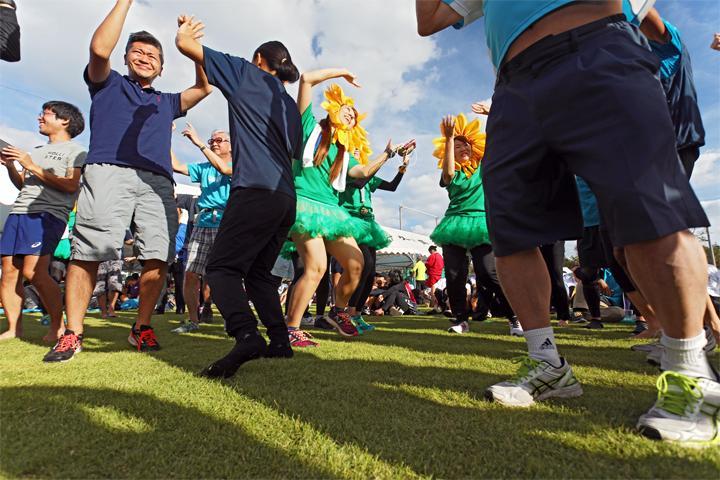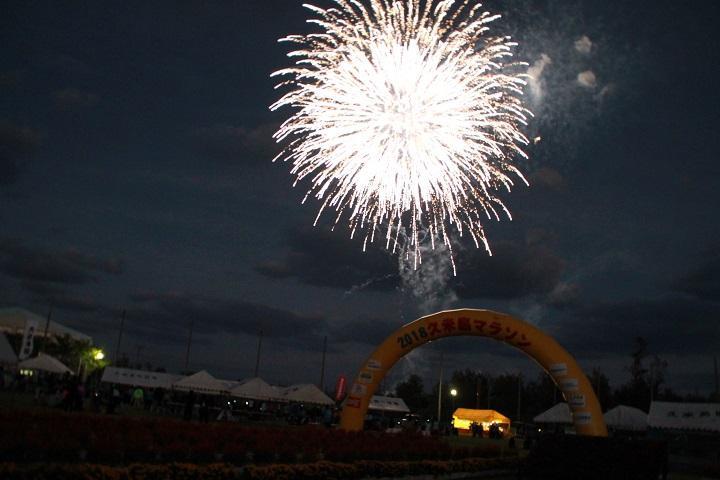 Be sure to also enjoy sightseeing and cuisine after the marathon too!
Many participants take part not just so they can run in the marathon, but also enjoy the sightseeing and cuisine of Kume Island. Some must-see sites include Mifuga Rock mentioned earlier, Hate-no-hama which stands out among the many beaches in Okinawa for its particularly dazzling radiance, and Hiyajo Banta which rises up 200 m above sea level and offers a wonderful view of the coastline. You can also visit Iifu Beach with its beautiful white sand stretching on for more than two kilometers and see tatami stones shaped in remarkable geometric designs as well as many other picturesque spots here and there around the island! Don't forget to try the Japanese tiger prawns, sea grapes, Kume akadori chicken and other local specialties. Of course, you can find Okinawa soba, goya champuru and other classic Okinawan dishes anywhere. How about marking your calendar for next year's Kumejima Marathon where you'll not only enjoy the run, but also sightseeing, scenery, and fine cuisine!