A Day Soothed by the Scenery of Yomitan Village and the Warmth of Handicrafts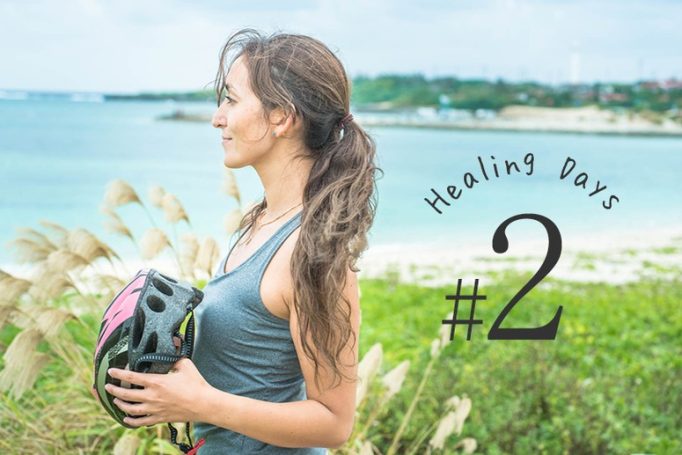 Enjoying the perfect pizza against a backdrop of Okinawan blue
Today's main event is something that I've long looked forward to, pottering around on a bicycle to see sites at our own pace. But, before we do that, we head to the Happy Cruise Café, a pizzeria atop a hill in Yomitan village, to get some energy for the day. What first amazed us as we got underway was the magnificent scenery we found ourselves walking in. It just took our breath away. On the other side of the window, the dazzling "Okinawan blue" sea just goes on and on to the horizon. Looking at this incredible sight, we could feel our stress just vanishing away.
After taking a seat on the terrace so we could enjoy the refreshing sea breeze, we promptly ordered two pizzas, the Margherita al Filetto topped with mozzarella cheese, cherry tomatoes and basil, and the Pizza Hawaiian a tropical-style pizza with pineapple and coconut flakes. The owner Horii-san used to be an engineer in the Kanto region on Japan's main island. With the knowledge and experience he gained from that career, he developed the world's first, and only, triple-far-infrared stone oven. Pizzas baked in Horii-san's pride-and-joy stone oven turn out perfect, crisp and savory on the outside but fluffy and chewy on the inside.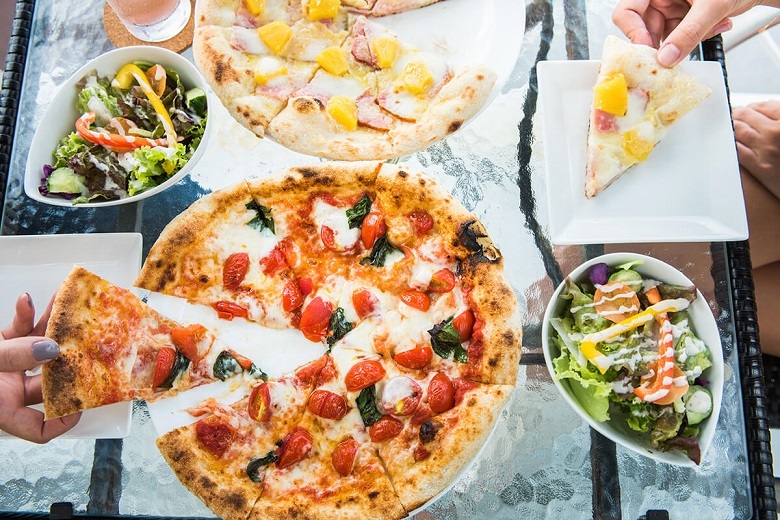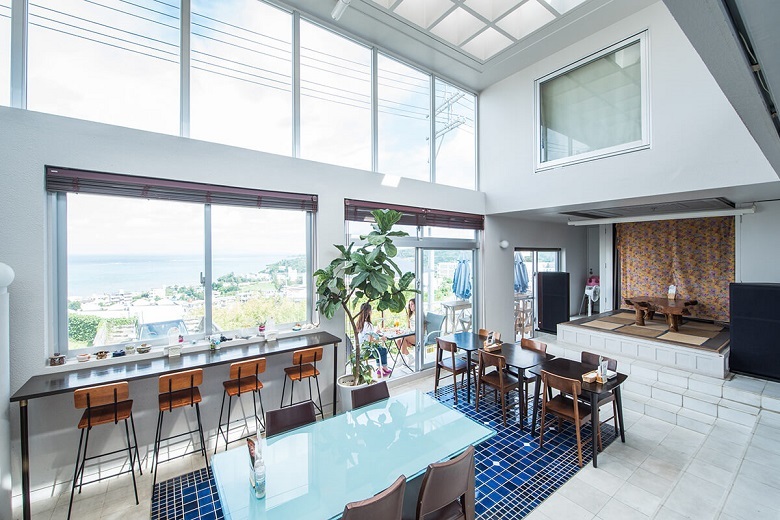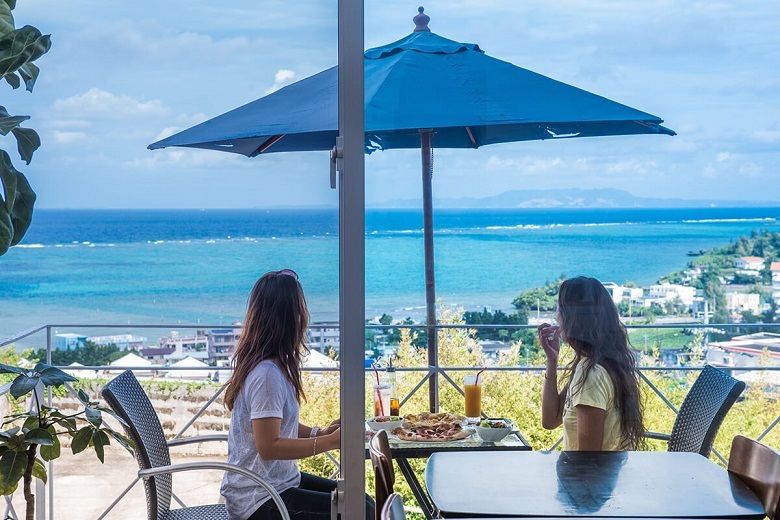 Our adventures touring around on mountain bikes"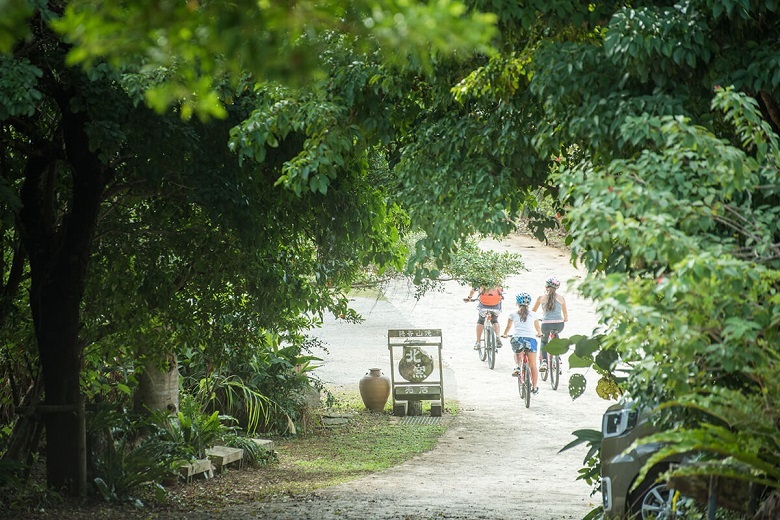 At 13:00, we finally join the bicycle pottering tour that we had reserved. We meet up with our instructor Naomi Nakawatase, who first teaches us how to ride a mountain bike. We soon pick up how to change gears and use the brakes. Our first destination is the craft village Yachimun-no-Sato. We get off our bikes and tour the ascending kiln as Nakawatase-san gives us an overview of how the process works, after which we take a look inside Kitagama Shop. I'm fascinated by a blue bowl that is the same color as the Okinawan sea, and instinctively take it in my hands. I had just learned how difficult the Yachimun glazing process is, and this small bowl in my hands reminds me of a miraculous crystal.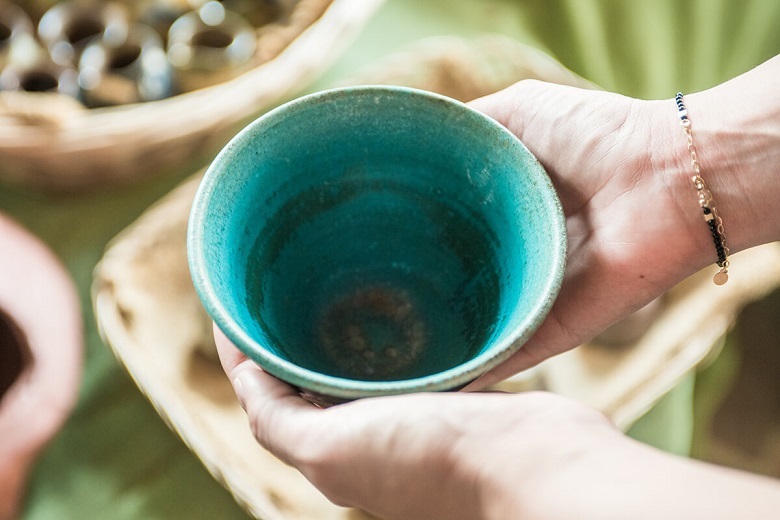 What I was secretly looking forward to on this tour was biking along the bumpy roads in between sugarcane fields. Mountain bikes are excellent for traveling along these narrow farm roads covered with pebbles and weeds. The shaking of the tires is exhilarating and heightens my sense of adventure! I quickly found myself getting carried away peddling the bike just like I was a kid again.
The leaves of sugarcane plants, the comforting sound of ocean waves, the breeze caressing my cheeks, the scenery of Zampa Cape, and the warmth of the handicraft dishware, all of these made our bicycle pottering tour a soothing adventure. The three-hour trip was over before I knew it, and both body and soul were fully refreshed.
Two experiences to get a feeling for the Okinawan sea up close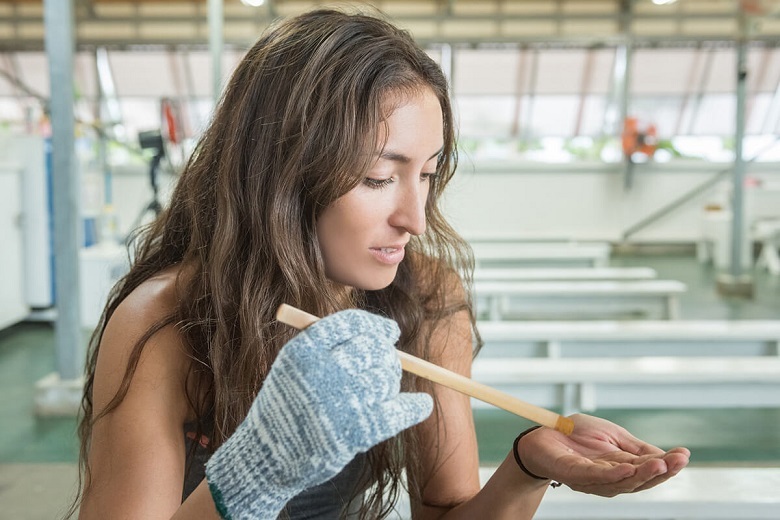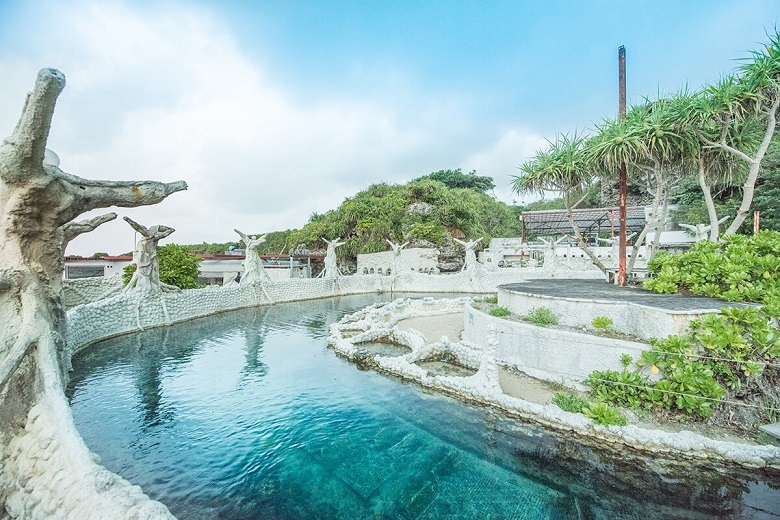 Gala Aoiumi is an entertainment complex where visitors can try their hand at making salt, blowing glass, crafting pottery, and other experiences. It was close to where the bicycle pottering tour finished up, so we decided to try our hand at making salt on the way home.
In Okinawa, salt is called "maasu," and there is also a custom of people carrying it to ward off evil. To make salt, first concentrated Okinawan seawater is placed in a stone pot and the water slowly boiled off over a charcoal fire to extract the salt. It was fun to watch the seawater bubble up, but we had to keep stirring it so the salt wouldn't burn. The way in which this mixture is stirred changes the taste and shape of the salt. I was very satisfied that I was able to make my own unique salt with a mellow savory taste! I put it in a small jar, which the shop provides so you can bring your finished product home, and presented myself with this wonderful souvenir.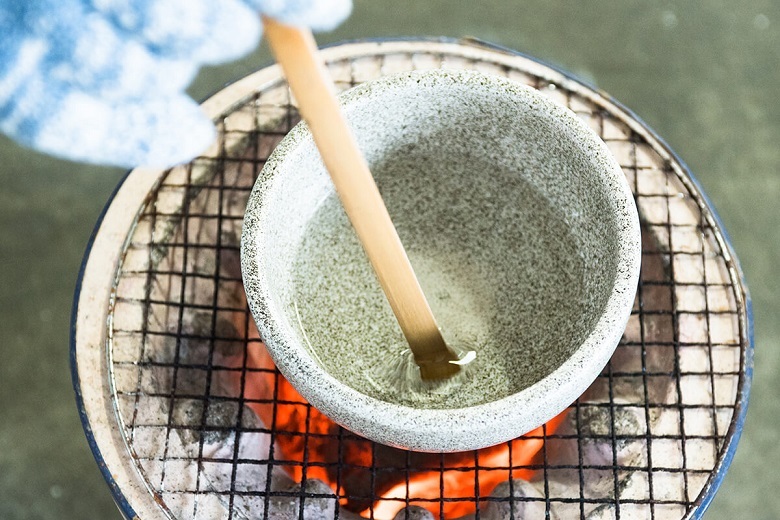 Having come all this way, we stopped by Coral Farm, which is right around the corner. On the premises, there is a man-made pool that recreates the ecosystem of the Okinawan sea. Here, about 50,000 pieces of living coral as well as fish, shellfish, shrimp and other creatures all live in harmony. The coral cultivated here are eventually transplanted to the sea. I whispered in my heart, "Grow big and strong," feeling nostalgic and concerned about the future of the Okinawan seas.
You can enjoy cycling as well as many other experiences as part of your day leisurely pottering around on a bicycle on the island. I think I could really get into this.