Let's enjoy the popular sites along the west coast of Okinawa on the Cycling Share Service, Chura Chari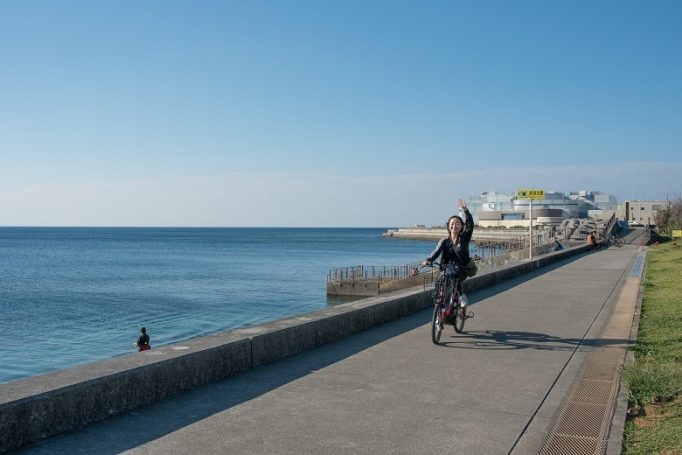 Recently, the word bicycle-sharing has become an oft-heard term domestically and internationally. Bicycle-sharing services are increasing in Okinawa as well. We'd like to deliver information on Chatan while using the Okinawan version of the bicycle-sharing: Cycling Share Service, Chura Chari.
Okinawa Cycling Share Service, Chura Chari
The beautiful thing about the Cycling Share Service is the ease of renting through a cycle port (designated locations to rent and return bicycles) and to easily get around at the user's convenience.
It is the ideal transportation method for your trip.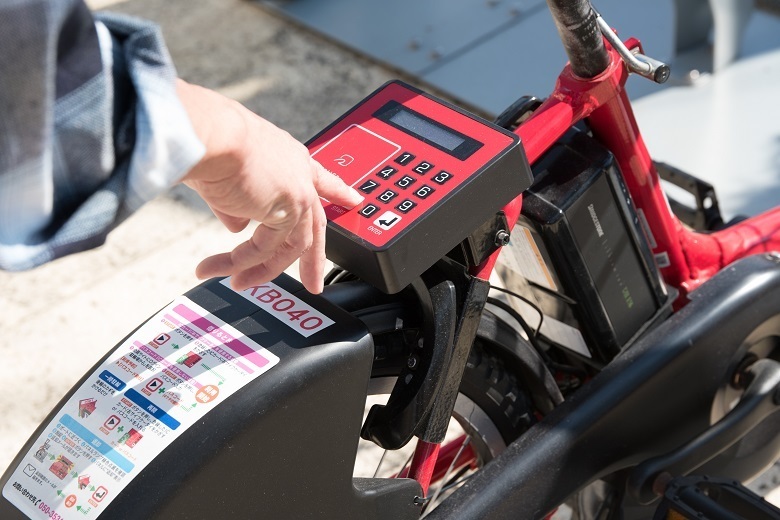 You can also use an IC card or an app to reserve a bike (up to 60 minutes before rental).
It was convenient as we were able to easily rent a power-assisted bicycle.
*Visit the Chura Chari official website for information on how to use the service.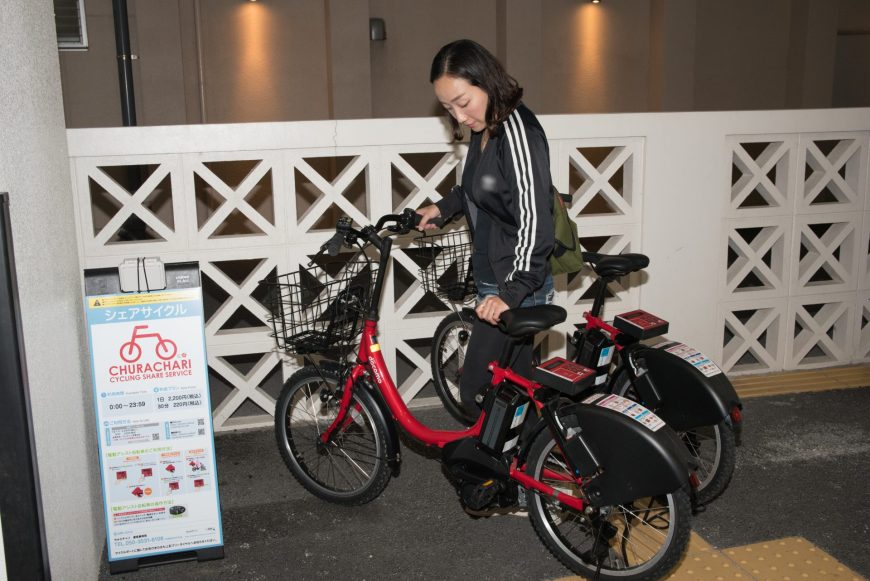 There was a total of two cycle ports available in Chatan.
As there are multiple cycle ports, it is so easy to rent and return the bicycle.
Let's rent a bike and freely ride through the tourist spots!
The good thing about cycling is that you can feel the wind of the area directly.
If you want to explore the comfortable breeze of Chatan, the coast of Miyagi is recommended.
There are walk trails along the coast and is a popular spot.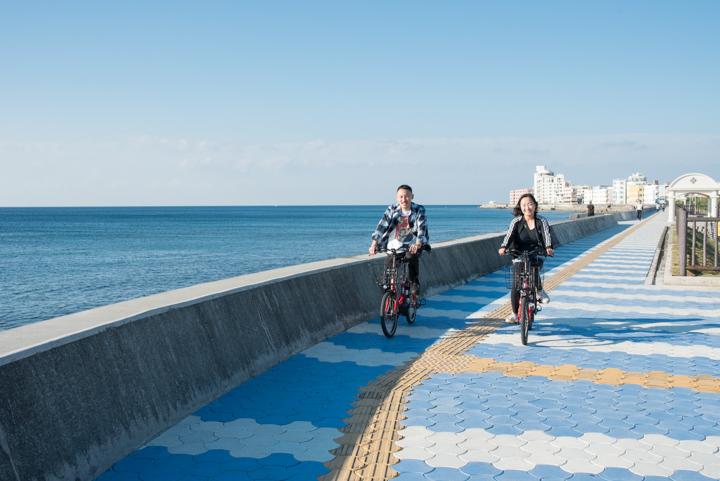 Cycling surrounded with the aroma of the sea and the sound of the waves is such a wonderful experience.
(*Please be cautious of your surroundings while riding a bicycle.)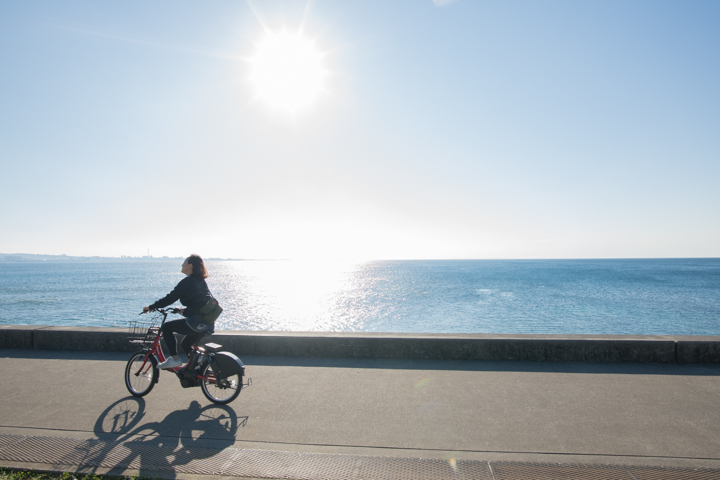 Let's take a lunch break.
Feeling a bit hungry?
Let's take a quick lunch break.
We've arrived at a café, AIEN Coffee & Hostel near the Miyagi coast.
Many domestic and overseas tourists visit this spot.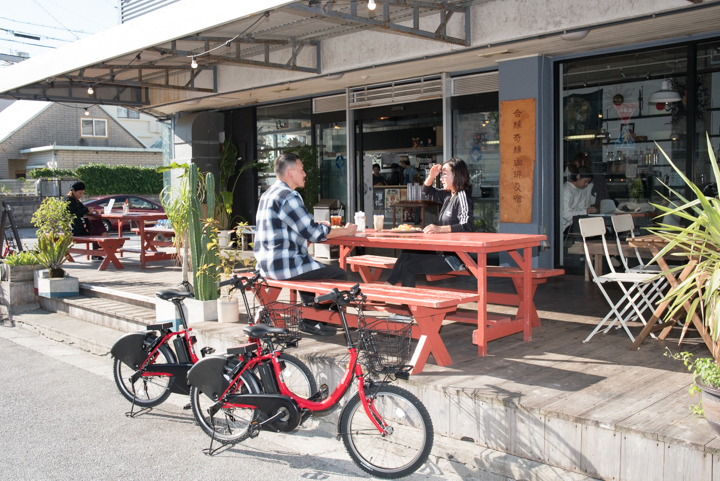 Since they do not have a parking space, it's beneficial to have a bike.
There are bicycle racks outside and equipped with other items for those traveling on a bicycle.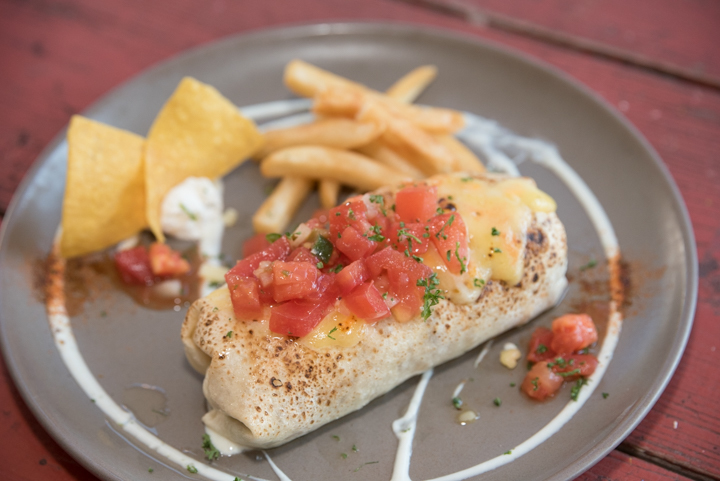 We decided to go with their popular item on the menu; burritos and AEIN taco rice.
You can also choose between chicken or a beef burrito.
They are also filled with rice, so it's quite filling.
A meal after physical activity makes the lunch extra satisfying.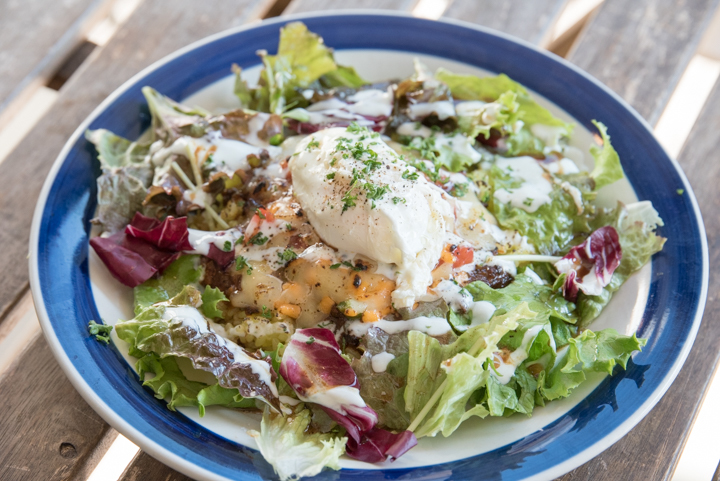 AIEN taco rice is made with a lot of topping with melted cheese with a coffee sauce as the secret ingredient.
Try their distinctive and original taco rice.
It's no wonder why they would use "coffee" in their shop name.
Quench your thirst with a delicious cup of coffee to go back on the bicycle journey.
Picturesque spots reminiscent of America throughout Depot Island
American Village is a highly popular place known to be social media-worthy.
This is where the Okinawan and American cultures merge.
This place will give you a sense of being in a foreign country.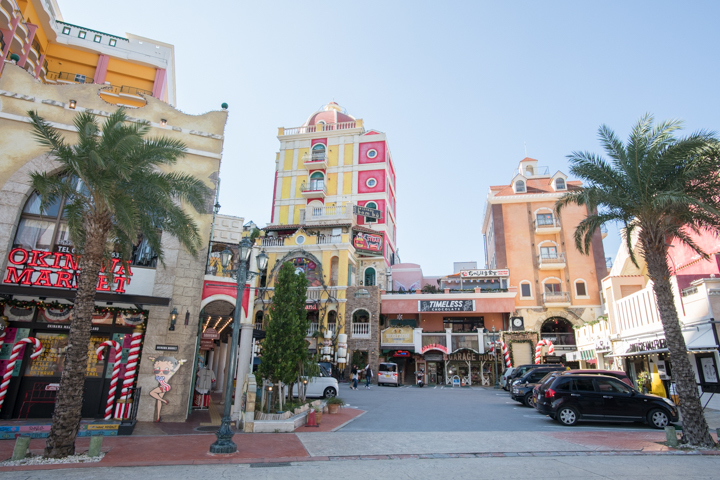 There are many picturesque spots within the vicinity, as well as places to enjoy shopping.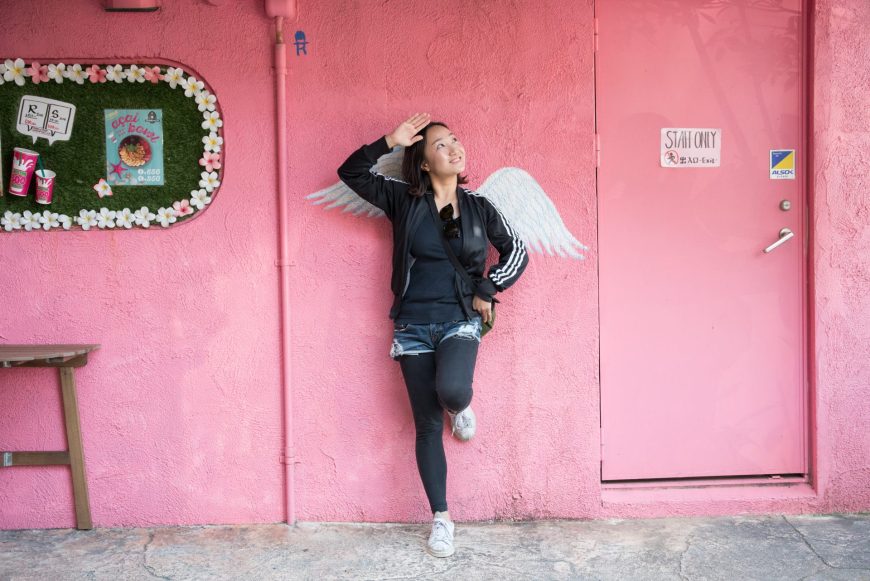 A unique Okinawan T-shirt shop, Habu Box, AKARA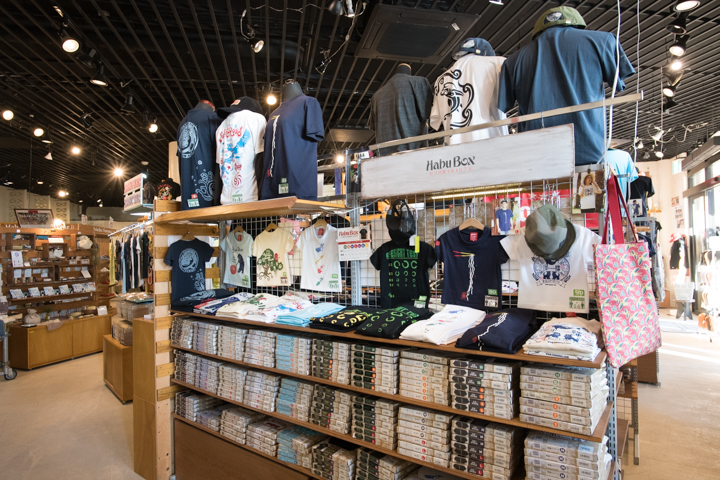 From a unique design of Okinawan scallion to sliced Goya, bitter melon, there are varieties of stylish and cools items available.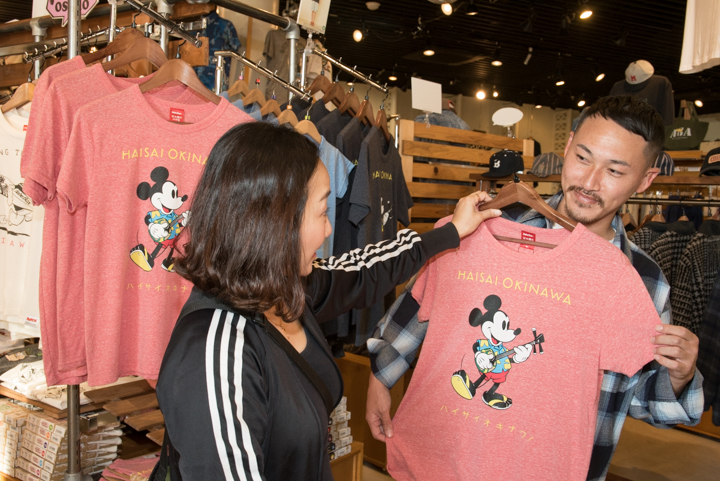 Our favorite design is this.
"Haisai Mickey Mouse," where Mickey Mouse is playing an Okinawan traditional string instrument, Sanshin.
If you look carefully, he's wearing flip-flops!
Close the day from sunset to dusk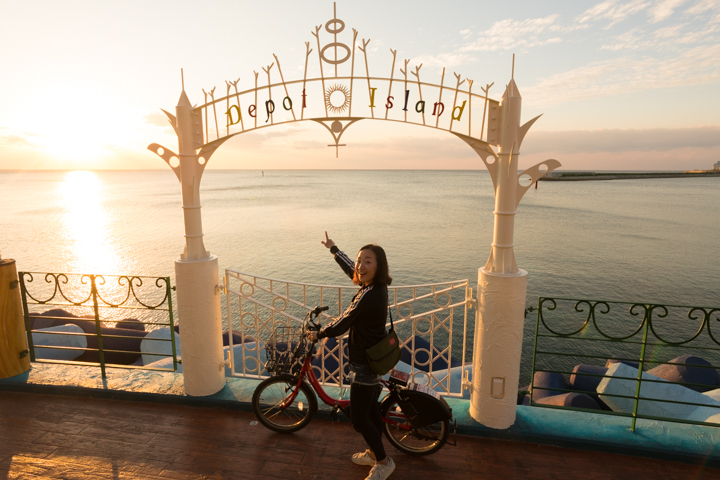 Next thing you know it, it's almost sunset.
Depot Island is located on the west coast, where you can enjoy a beautiful sunset.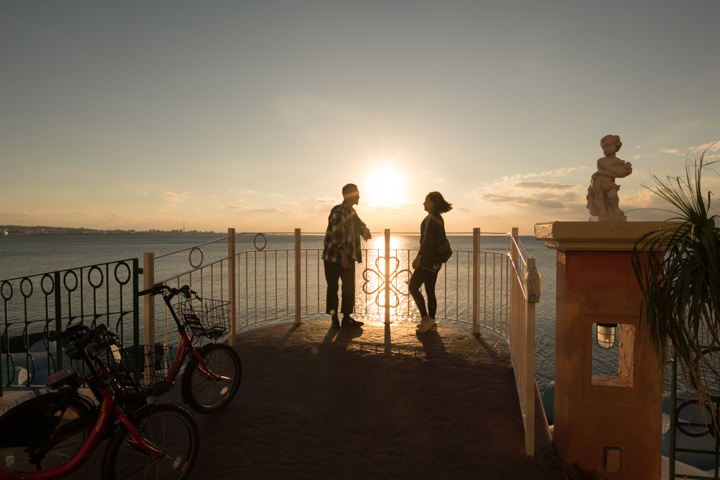 How wonderful it is to be able to spend the day on the beach with that special someone.
We were able to spend a special day by immersing ourselves in the golden rays of light.
Traveling by rental car is good, but the use of Cycling Share Service, Chura Chari is also recommended too!